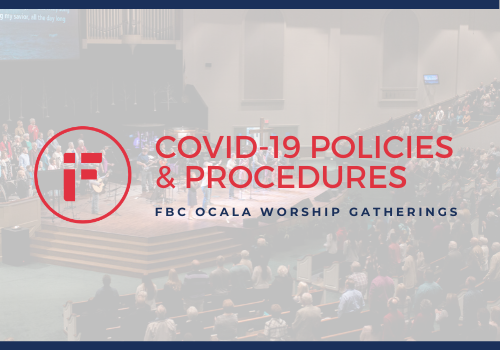 To ensure the health and well-being of our FBC Ocala families and our community, we have adopted the following policies and procedures:
Please enter the Worship Center through the main foyer doors only. At the end of our worship service, you will be directed how to exit the Worship Center. There will be no access to the Education Building.
Community groups will continue to meet virtually until advised otherwise.
Seating will be restricted to every other pew to maintain social distancing.
We ask that families in the same household (including students and children) sit together at one end of a pew, leaving the inside of the pew empty.
Handicap accessible seating will be available.
In an effort to maintain social distancing, we will not distribute worship bulletins or hold a greeting time during the service.
Hand sanitizer stations will be available.
Tithes and offerings will be collected upon exiting the Worship Center, or you may make an online contribution.
Masks are not required, but those who wish to wear them may do so.
There will be no Kids Worship or childcare available. We ask that children be seated with their families in the Worship Center.
We will continue to offer a small-scale drive-up worship option on the softball field for those who do not yet feel comfortable gathering in the Worship Center.
Staying in? You can access our livestream on both our website and Facebook page.
PLEASE DO NOT ATTEND IF YOU ARE EXPERIENCING FEVER/COUGH/OTHER SYMPTOMS.
If you not comfortable returning indoors for worship, drive-up worship is still being provided.